Skyrocket your child's

focus &

confidence

through a

mindful

, nature

-filled quest to become a fairy!
In folklore fairies are the guardians of nature. They celebrate the Earth, animals & each other, while spreading kindness & fun to everyone!
Your little one can learn to embody the fairy spirit with an interactive home program weaving mindfulness, nature learning & creative play… and it's super EASY for you!
LAUNCH CELEBRATION OFFER!

SAVE 20%!! Right now receive lifetime access for just $48 (normally $60). Offer ends soon.
Claim your 20% discount NOW!
"Fun! Creative! Entertaining! My daughter loved it. I would absolutely recommend this program!"
- Rachel S.
"SO much better than Youtube videos! My daughter is over the moon with this!"
- Bryanna E.
"My kids had a blast! They were both so excited to learn about fairies and nature. It was great having something they could enjoy together."
- Nicole M.
Hours

of weekly

fairy fun

!

Over 5 weeks little ones are guided on a quest to grow their 'fairy power', completing simple activities & special tasks building towards their fairy graduation!
Parents, we get that you have already have a full plate, so this program is
easy, self-paced, with

planning done for you

!
Play Book
eBook download of the 5-Week Fairy curriculum.
Bonus Activities
A growing library of fairy-themed activities!
FB Community
Access to the private 5-Week Fairy Facebook group for parents.
Kids

love

our fairy training!
Being a parent is hard, so isn't it

frustrating

that a lot of home play looks like:
Endless random scrolling
Do your kids really need to watch another unboxing video?
Expensive subscription boxes
Adding up to hundreds of dollars each year and thrown to the side in no time.
Overwhelming activities
Endless planning & complicated pinned posts that NEVER get made.
Introducing

5-WEEK FAIRY

!
The only
fairy-guided
home program that connects kids with nature, builds confidence and develops mindfulness.
More green & mindful time!
Developing focus, confidence & wellbeing.
Structured, fairy-themed course
Inspiring learning for the kids, super easy for you!
Active learning
More imaginative, interactive and easy hands-on fun!
5-WEEK FAIRY:

Experience Overview
---
Week #1:

Love your fairy-amazing self
⭐️ THEME: Flower fairies
⭐️ Fairy learning: Fairyland & the fairies
⭐️ Nature time: Make a flower crown
⭐️ Mindful time: Rainbow meditation
⭐️ Create fairy wand & fairy door!
⭐️ Fairy Food: Berry salad
⭐️ Self-love assignment
Week #2:

Become a planet protector
⭐️ THEME: Gnomes
⭐️ Fairy learning: Animals & our planet
⭐️ Nature time: Plant seeds, using fairy magic to help them grow!
⭐️ Mindful time: Planet adventure yoga
⭐️ Learn 3 ways to help the planet
⭐️ Create leaf animals & fairy pot
⭐️ Fairy food: Fairy Queen Greens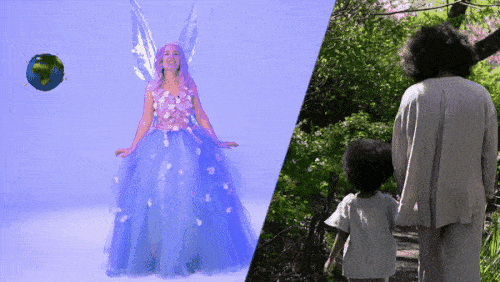 Week #3:

Spread kindness & joy
⭐️ THEME: Unicorns
⭐️ Fairy learning: Unicorns & Rainbow fairies, friends forever!
⭐️ Nature time: Fairy-fun scavenger hunt
⭐️ Mindful time: Fairy powerful tapping
⭐️ Create fairy hearts, 'Giggly' & card game
⭐️ Fairy "spread-more-giggles" assignment
⭐️ Fairy food: Rainbow salad

Week #4:

Explore your fairy-big feelings
⭐️ THEME: Snow fairies
⭐️ Fairy learning: Snow fairy & mermaid magic!
⭐️ Nature time: Make a fairy potion
⭐️ Mindful time: Dragon & fairy breathing
⭐️ ​​Dance all the fairy big feelings
⭐️ Create your own fairy storybook
⭐️ Fairy food: Fairy Feelings Milk

Week #5:

Become Fairy Empowered!

⭐️ Fairy Transformation: a ceremony to be anointed an official fairy of nature!
⭐️ Celebrate YOU & unleash your unique fairy power!
⭐️ Nature time: Fairy-spotting hike
⭐️ Mindful time: "Hello Future Me" visualization
⭐️ Create your fairy name, badge & portrait
⭐️ Fairy food: Banana pops!

Hi, my name is Christina Evans AKA

Unitia, Queen of the Fairies

!

Graduating with a BA in Dance from the Western Australian Academy of Performing Arts, I've sailed to Antarctica with scientists to create dance works about climate change, and presented nature-based and socially driven performances around the world, receiving a few international awards along the way.
I've also been a guide to tiny humans for over 12 years, including working in childcare, dance teaching and children's entertainment. Currently I run a kid's party business called Faery Faces in Los Angeles. I also like to practice yoga, meditation and tapping daily.
Having worked intimately with families, I get that keeping kids entertained at home can be exhilarating, exhausting and repetitive. I saw a general lack of content that focused on nature, mindfulness and self-empowerment for kids, along with the fairie's connection to the natural world.
I founded Fairy School with my husband Sasha Dylan Bell, and our mission is to inspire confident, kind and nature-loving humans with fun, educational and holistic programs, while being a support for busy parents like yourself.
Our founders have

worked with

...
Who This Course Is For
✅ You want positive learning experiences for your children, but you don't have time to sift through the endless Youtube scrolling and are sick of paying a fortune on subscription boxes.
✅ You value the power of green time and mindfulness for your children, but don't have a way to make the process engaging and meaningful.
✅ You want more magic in your little one's lives…and what's more magic than the fairies?!
Who This Course Is NOT For
❌ You think "green time" and "mindfulness" are just hippy-dippy terms, feeling like the proven science is just plain filling your child's head with nonsense.
❌ You don't care about your child consuming endless hours of mundane content and ads.
❌ You just want a distraction for your child and don't care if it's all sofa-time. There are better options for those who don't value structure or engagement.
Giving back to

nature

!
A portion of your enrollment will be donated to environment nonprofit, The Conservation Fund on your behalf.
Give the

gift

of magic!
Grandkids, nieces, nephews or friends - why not share the magical gift of nature, mindfulness and tons of fun!
Frequently Asked Questions
I'm busy. How much time is this going to take out of my week?
This program is self-paced so lessons can be completed when it suits you. There will be one nature project per week, taking less than an hour. Each week also contains between 30-40 minutes of interactive video content, requiring basic set-ups for crafts, activities and print-outs. The Fairy Queen will take it from there. Each good deed (1 per week) will take 5-10 minutes, and the bedtime audios can be integrated into sleep time. Keep in mind you will have access to this content for a lifetime and the course will continually grow!
What age is this course aimed at?
This course is especially made for girls and boys aged between 4 and 8 years old, but ALL children are fairy-welcome.
Can I buy the course as a gift? 🎁
Abso-fairy-lutely!!! In fact, 5-WEEK FAIRY makes the perfect gift to buy children of friends, grandkids or just about anybody! Click here to buy your fairy gift.
Can't my child just watch Youtube?
Youtube is a fantastic resource with loads of great free children's entertainment, but can be a disorganized rabbit hole of scrolling (and ads!). 5-WEEK FAIRY is a structured fairy-themed program that incentivizes children through completing nature and mindful activities, mixed with dance, simple crafts and good deeds in order to achieve a fairy transformation.
Do I need to buy supplies for this program?
The fairy and nature-themed arts, crafts and games throughout the course are made using flowers, leaves and basic school supplies you probably already have sitting around the house. The program is designed to not only give your child a transformational experience, but to make YOUR life easier. View the full list HERE.
Do I need to live close to nature, for my child do to nature exercises?
We aren't all lucky enough to live surrounded by wilderness. The good news is that our nature exercises are designed to be completed in your own environment, whether a city park, nearby forest or even a neighbor's garden. What's important is the effort to spend time exploring outside in some way. It goes a loooonng way to connecting with the fairies after all!
How long do I have access to the program and when does it start?
You will have access for…drumroll pleeaase…a lifetime!! As long as the course is being sold, it's yours to revsit whenever you like, across any device you own. After enrolling, you have immediate access to this program, including all updates and future content we add.
Is there a guarantee?
Absolutely! If your little one isn't absolutely DELIGHTED by their 5-WEEK FAIRY experience, then contact us within 72 hours for a full refund, no questions asked!