Make mindfulness magical! Skyrocket your child's
kindness

 &

confidence

 through a

multi-sensory

 adventure!
Calm your little one down and light up their big heart! Enchanted Explorers will empower your kiddo to spread kindness through a fun home program packed with magical meditations, nature learning & multi-sensory play…all made super EASY for you!
LIMITED TIME OFFER! Lifetime access for $149 $48.
Offer ends soon.
Join Enchanted Explorers & save 65%
Mindfulness Mastery: 

Focus those distracted minds & calm their big emotions!
The science is in. Mindfulness practices create calm, curious, resilient little humans. Enchanted Explorers makes mindfulness FUN with:
⭐️ Fairy-themed meditations
⭐️ Interactive yoga
⭐️ Dragon breathing exercises
⭐️ EFT tapping
⭐️ Bedtime affirmation audios
Active Learning: 

Eliminate "I'm bored" from their vocabulary!
Active learning ignites kids' bodies & minds, inspiring them to learn as they explore. Enchanted Explorers stimulates kids with:
⭐️  Fairy dancing
⭐️  Imaginative games
⭐️  Nature explorations
⭐️  Creative hands-on play
⭐️  Interactive fairy tasks
Green Time: 

Get those stir-crazy, screen-obsessed kids outside!
Research shows that just 1 hour of outdoor time enormously improves kids' well-being. Enchanted Explorers fuels your child with:
⭐️ Easy fairy-themed nature projects
⭐️ Outdoor hunts & games
⭐️ Ways they can help care for Mother Nature
⭐️ Nature-based art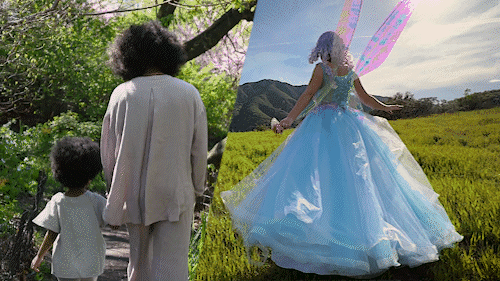 Innovative Thinking: 

Shape leaders, not imitators!
Encouraging kids to think outside the box gives them powerful problem-solving & leadership skills to make a difference in the world. Enchanted Explorers fosters this through:
⭐️ Creative exercises to encourage independent thought
⭐️ Visual, auditory, tactile & kinaesthetic experiences
⭐️ Games that incorporate telling their own stories 
Cultivate Confidence:

 Set your kids up for lifelong success!

Healthy self-esteem is developed when kids achieve goals and like who they are. Enchanted Explorers waters these seeds through:
⭐️ Fun & easy goals along their quest (tracked by our Fairy Meter)
⭐️ Good deeds to spark a sense of community
⭐️ Repeated positive encouragement throughout
40+ Fairy Sessions
(and growing!)
Parents, we get that you want the very best for your child, but you're juggling a LOT of plates. This home program empowers your child to celebrate who they are with all planning done for you, so you can simply jump in to connect in ways that matter.
Play Book
Solidify their learning with a step-by-step eBook of the Enchanted Explorers curriculum.
Bonus Activities
The fun will never end with a growing library of fairy-themed activities!
FB Community
All your little one's fairy questions answered with regular visits from the Fairy Queen.
Why fairies?
In folklore fairies are the guardians of nature PLUS kids learn best when exploring their passions, sparking a lifelong love of learning.
Benefits of
mindfulness

 &

nature

 on children*

The Enchanted Explorers curriculum is based on an integration of mythology and academic research that will help your child realize their innate potential to be mindful, creative, kind & resilient little humans. Our fairies-in-training engage in fun and stimulating activities that produce the following benefits:
Hi, my name is Christina Evans AKA

Unitia, Queen of the Fairies

!

Graduating with a BA in Dance from the Western Australian Academy of Performing Arts, I've sailed to Antarctica with scientists to create dance works about climate change, and presented nature-based and socially driven performances around the world, receiving a few international awards along the way. 
I've also been a guide to tiny humans for over 12 years, including working in childcare, dance teaching and children's entertainment. Currently I run a kid's party business called Faery Faces in Los Angeles. I also like to practice yoga, meditation and tapping daily.
Having worked intimately with families, I get that keeping kids entertained at home can be exhilarating, exhausting and repetitive. I saw a general lack of content that focused on nature, mindfulness and self-empowerment for kids, along with the fairies connection to the natural world. 
This is why I founded Fairy School with my husband Sasha Dylan Bell with a mission to inspire confident, kind and nature-loving humans through fun, educational and holistic programs, while being a support for busy parents like yourself.
Our founders have
worked with
...
Who This Program Is For
✅ You want positive learning experiences for your children to grow into their best selves, but don't have time to plan holistic activities.
✅ You do NOT want the kids randomly scrolling Youtube and are sick of spending a fortune on subscriptions.
✅ You value the power of mindfulness and green time for your children, but don't have a way to make the process engaging and meaningful.
✅ You want to make the most of the short window of precious time you have with your kids at this age and to bond with them in magical ways.
Who This Program Is NOT For
❌ You think "mindfulness" is just a hippy-dippy term, feeling like the proven science is just plain filling your child's head with nonsense.
❌ You don't care about your child consuming endless hours of mundane content and ads.
❌ You think that the enormous benefits of getting the kids outside is not going to be worth the hassle.
❌ You just want a distraction for your child and don't care if it's all sofa-time. There are better options for those who don't value structure or engagement.
Know a kid? Give the

gift

of magic!
Grandkids, nieces, nephews or friends - why not share the magical gift of nature, mindfulness and tons of fun!
Frequently Asked Questions
I'm busy. How much time is this program going to take?
What age is this program for?
Can I buy the program as a gift? 🎁
Can't my child just watch Youtube?
Do I need to buy supplies for this program?
Do I need to live close to nature for the outdoor projects?
How long do I have access & when does it start?
Our mission is to empower children through interactive, nature-centered experiences that cultivates mindfulness, inspires creativity and instills a respect for our environment, all guided by our innovative M.A.G.I.C. Method.
© 2023 Silver Street Inc
By visiting this page, you agree to terms and conditions & privacy policy.
 This site is not a part of the Facebook website or Facebook Inc. Additionally, This site is NOT endorsed by Facebook in any way. FACEBOOK is a trademark of FACEBOOK, Inc.